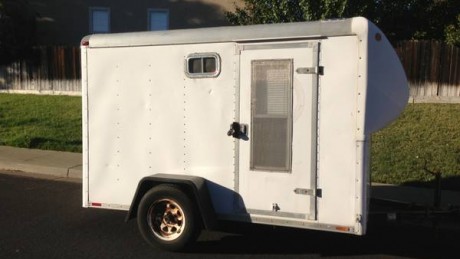 New Stealth Cargo Trailer!
Wednesday, December 11th, 2013
The Dodge has been reclaimed by the city, due to draconian policies regarding parking in Berkeley my RV was towed and the tyrants in charge of the tow service wanted thousands of dollars to get it back (no thanks, keep it.) Unluckily for them I was still renovating, so I had my solar rig pulled out for re-roof sealing and painting inside, so the most expensive parts of my RV happened to be in the house. whew, dodged a slight bullet.
Update 12/2013: I've changed my idea about what I want in a RV now and decide a truck and trailer is far more useful. I got a wells cargo 6×10 trailer and its now outfitted to be a mini toyhauler slash rv. Its all wired up for 110 but I still need to integrate the old RV deep cycle array into the fray and I'm going to keep the solar cells unattached and just have a decently long line to run them out and set them up on ground stands when I want to use them. Expect updates on the project soon.
Posted in
Nomad
,
RV